Wifi Password Hacker For Android Phone Free Download Apk
Smartphone: Android.APK, iPhone/iPad with iOS. Click the button below to go to the files page where you can download the tool. User Instructions: WiFi Cracko is created with a very user friendly interface so even beginners can easily understand how to operate with it. Where can i download clash of clans. Here is a step by step guide how to hack to hack WiFi password using our tool. PLDT WiFi Hacker Apk is an amazing Android application that allows you to hack Wi-Fi Networks. Basically, this application is new on the internet and very few of the people know about it. So, despite that, it is working perfectly and you can have a better and free connection.
Wi-Fi hacking or cracking was considered as one of the toughest task in the tech era. People used to think that it's a task which can be completed only by hackers. But the time has changed, now even a child having Android Smartphone can hack wifi network. There are hundreds of wifi hacker apps available for android to crack Wi-Fi network. These apps will hack wifi passwords with an almost 100% accuracy. All the apps are based on GUI (Graphical User Interface) interface that simply means you don't need to learn any type of coding to crack wifi network.
GUI interface opens the door of one click wifi cracking. Yeah, I said it right; Just press one button and the process of cracking will start immediately. I made a deep research and found a collection of 5 best wifi hacking android apps. You can easily download wifi hacker apk from the link just next to all the apps listed below. Below is a brief description of all them.
Update :- We've added wifi hacking app for PC too. Download it from here.
How To Hack WiFi On Android
These are some of the best hand picked android apps to crack wifi password
1. WiFi Hacker For Free
If you're looking for a real wifi password cracker then it's the app which can fulfill your need. It's one of the best apps to get free Internet on android through wifi network. Android users can easily hack any other device network with this password breaker app.
Download WiFi hacker
Now hack or crack any wifi password similar to a professional hacker. Wifi hacker professional android app can break into any Wifi network. Just use the app, crack the password and be a professional hacker in front of your friends.
Download WiFi Hacker Professional (.apk)
3. WiFi & Router Password Finder
It's one of the best offline android apps to find default password of any router. With this app you can find default password of more than 1200 wifi router. Isn't it amazing? Yes! it is. When we talk about the best way to find default password of any router then this is the method which comes to our mind.
Download Wifi & Router Password Finder (.apk)
Your research end here if you're here for real wifi hacker for android. This android app helps you to crack or break password of any public wifi and further will provide you a new password of that network which you tried to break off.
Download Wifi Password Breaker (.apk)
5. WiFi Password Key
Wifi password key android app can find other device wifi key. It's considered as one of the outstanding android apps to find wifi key. You can generate WEP and WPA random passwords with the use of this app.
Download Wifi Password Key (.apk)
Must Read :-
Wifi Password Hacker For Android Phone Free Download Apk Windows 10
Ultimate Pack Of 10 Tips To Improve Your Internet Security
[Tutorial] Log Out Gmail Account All Sessions Remotely
So this was all about best wifi hacker app for android. All the apps are hand-picked so you can choose any of them for the wifi cracking. If you have any doubt or query then feel free to leave a comment below in the comment section.
About WIBR+ WiFi Brute Force Hack Pro APK:
Wifi Password Hacker For Android Phone Free Download Apk
WIBR+ WiFi Bruteforce Hack Pro is a penetration tool to check the loopholes and weakness of a WiFi network. You can get to know either your WiFi can be hacked or not. As online privacy and security is the most important thing. If someone could get enter into your network, and control all the traffic, he can reveal your privacy. So, before some other people come to know the hidden Windows of your network, you just check it yourself.
This is not as difficult, you just tap the download button above, and get the file in your Android phone. Install WIBR+ WiFi Bruteforce Hack Pro app on your Android phone and start revealing the WiFi passwords of the nearby internet connection. By doing this, you even can impress your neighbors, the app is just developed for the educational purpose. Any wrong use of the app make it illegal, and you solely be responsible for that.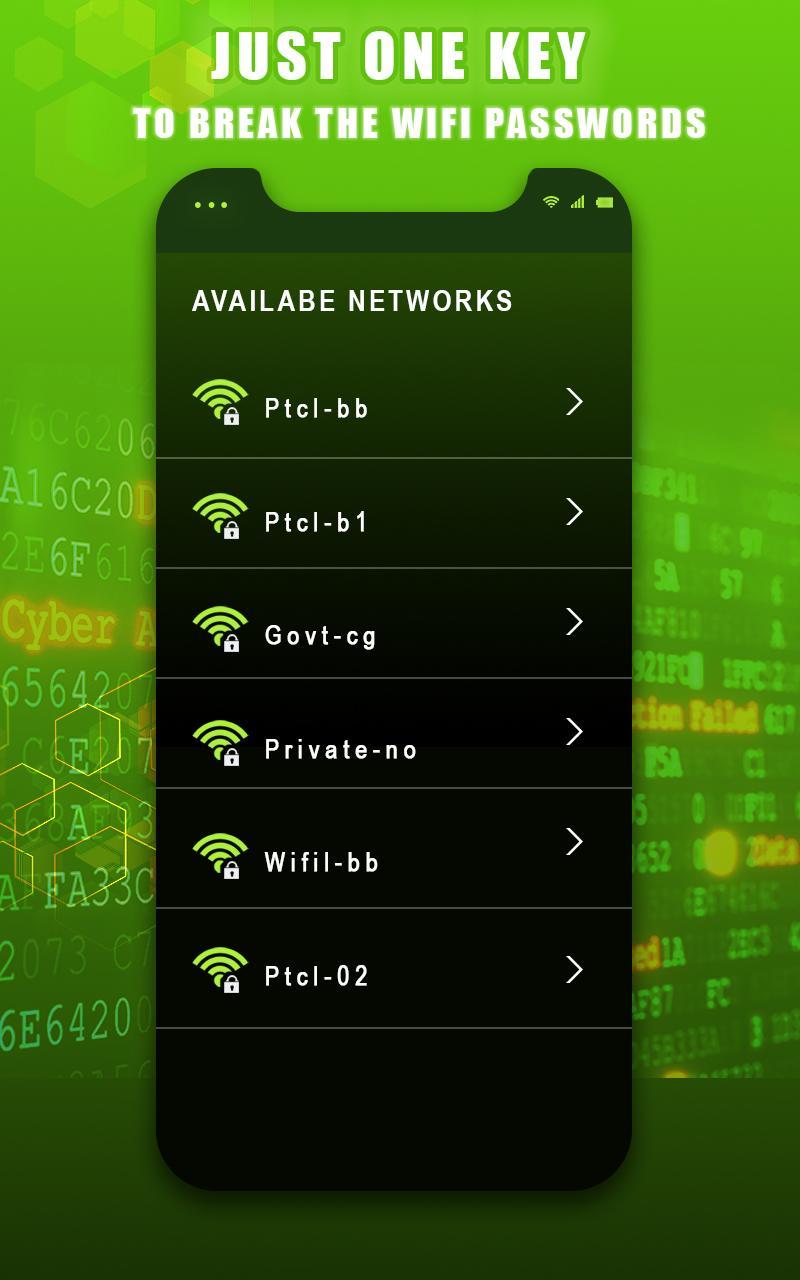 How to use WIBR+ WiFi Bruteforce Hack Pro?
To get the right use of this app, you should have installed Android version 4.0.3 on an Android. As this application supports the higher version of this Android version. You might get the installation error, as you did not have changed the security setting. Change the installation settings to unknown sources and install the app on your Android phone or tablet.
Download the application on Android phone or tablet.
Install it safely, hope you will get a smooth installation.
And launch the app on your phone.
If you get any error, restart the phone and try once again.
Launch it, this will start getting information on the nearby internet connection.
Chose the network which you want to hack.
Or just provide the network name, it will start the scan and get you the password.
This application even can hack WPA/WPA2 also.
And this will reveal the key to that network.
While scanning, this application can take a few minutes, sometimes more than an hour. Frp lock samsung n910v 6.0.1 clamgsm. So, you should stay calm, and hold your patience. Not tweak the app by scanning again and again. It can harm the performance of it, and there are possibilities, this app does not hack a network. At least, by doing this, you would come to know, either your connection can be hacked or not?
Features of WIBR+ WiFi Bruteforce Hack Pro:
This app leads you to hack any nearby internet connection.
It can hack the WPA/WPA2 connections.
This app supports queueing, custom dictionaries.
Bruteforce generator and advanced monitoring as well.
Support all Android phone.
Read the description before getting the app installed.
Download WIBR+ WiFi Bruteforce Hack Pro app APK file latest version above. Just tap on the download button, and you will get the app on your phone. Install it, and find the loopholes in your security.
Rating: 4.0/5. From 6 votes.